Category Archives:
main dish
Every Friday night growing up, my parents would go out on a date.  This was our night as kids to make what we wanted for dinner, pop popcorn, and watch a movie! We called it our Friday Night Party! Our typical dinner fare (only for a Friday night) was Kraft mac and cheese with peas mixed in or Chinese take-out, but sometimes we got a bit more creative in the kitchen.  I remember my brother being especially adventurous and decided he wanted to lead us in making homemade ravioli, having never made them before.  Now, ravioli is not something you whip up real quick, it takes a lot of work and time! I think we were all starved by the time we sat down at 9 that night to finally eat our dinner!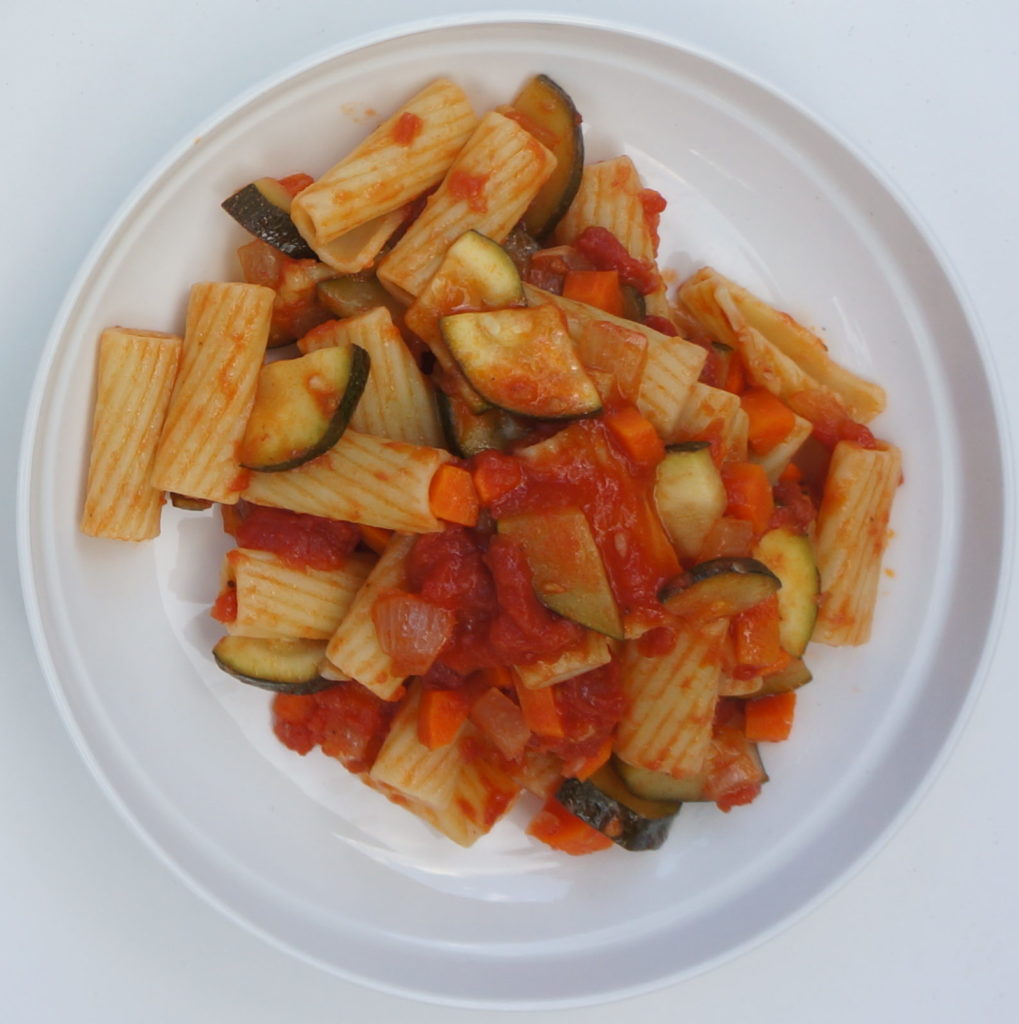 When it was just me and my sister left at home, I remember us slicing and cooking zucchini in the microwave and topping with parmesan, or feeling really fancy when we would saute an onion and carrot to add to our jar of Ragu pasta sauce.  It sure makes us laugh now thinking how gourmet we thought we were!  Later, we really stepped it up and created this pasta sauce from scratch that quickly became a favorite. It still is one of my favorites!
Zucchini Pasta Sauce
A quick and simple pasta that highlights summer's zucchini!
Ingredients
2 Tbsp olive oil
1 onion, diced
3 carrots, diced (or grated if short on time--it will cook faster!)
2 zucchini, quartered and sliced
3 cloves garlic, minced
1 tsp salt
¼ tsp pepper
1 28 oz can crushed tomatoes (or can use diced or mashed up whole tomatoes)
1 tsp sugar
parmesan (optional, for topping)
Instructions
Heat a large saute pan with the oil and add the onion, carrots, zucchini and garlic, seasoning with salt and pepper, and cook until the onion is translucent.
Add the crushed tomatoes and sugar and let it simmer until the carrots are tender and the sauce has thickened.
Check for seasonings and add more salt or pepper if needed.
Serve with shaped pasta* (I like it with penne, bowtie, or rigatoni) or cooked spaghetti squash.
Notes
* My favorite gluten-free noodles are made with brown rice and quinoa.

-This sauce is very simply seasoned that I enjoy as is, but you may also add basil, dried oregano, etc if you desire!

-My mom's secret was to add a chicken bouillon cube to pasta sauces! It really does give it a lot of flavor, so if you have that in your pantry, you can throw it in with the sauteeing veggies before you add the tomatoes (make sure you decrease salt significantly since those little cubes usually pack in a lot of salt already!), I did not include it in the recipe just because I personally no longer use them any more.
---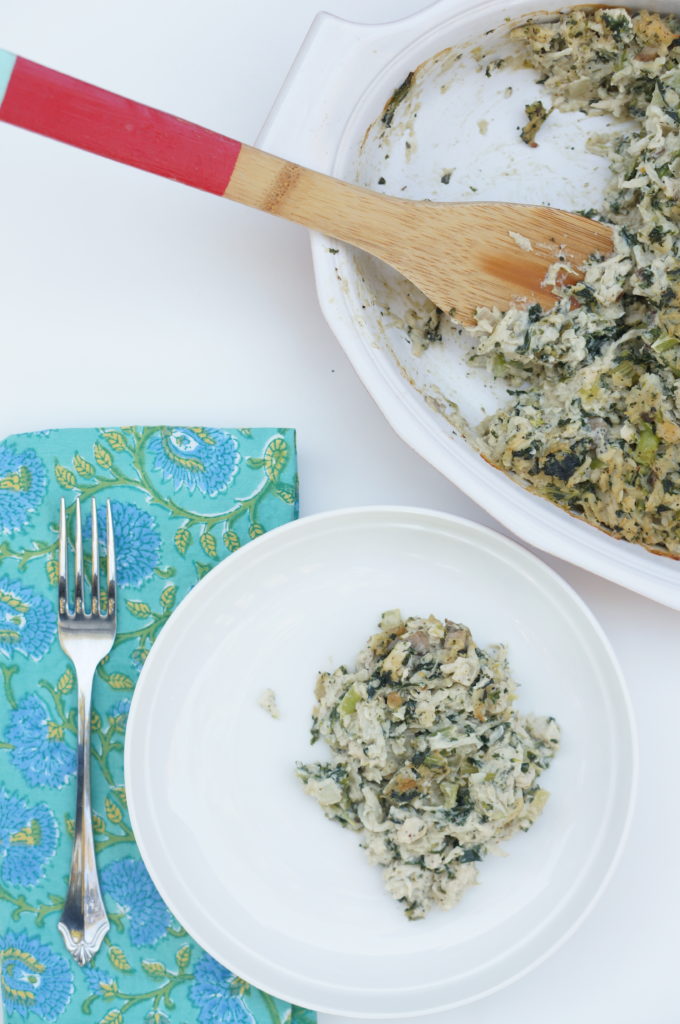 Jesse totally makes fun of me for making this dish, because I do NOT do casseroles.  I'm really not even a comfort-food cook either for that matter, and casseroles are typically heavy, loaded with dairy and lots of cheese, and just not the way I cook (or can even eat!). But then last year I saw this "casserole" in Danielle Walker's Against All Grain "Meals Made Simple" cookbook, and I knew I had to try it out.  No "cream of" cans in this, and shockingly, there is zero dairy! But yet it is SO delicious and so satisfying, and healthy as the creamy sauce is made from cashews and the "rice" is actually grated cauliflower, that you can happily indulge in this casserole guilt-free! Whenever Jesse walks in and sees this cooking, he is almost a little too excited by the fact that I made a casserole. 🙂 Hah!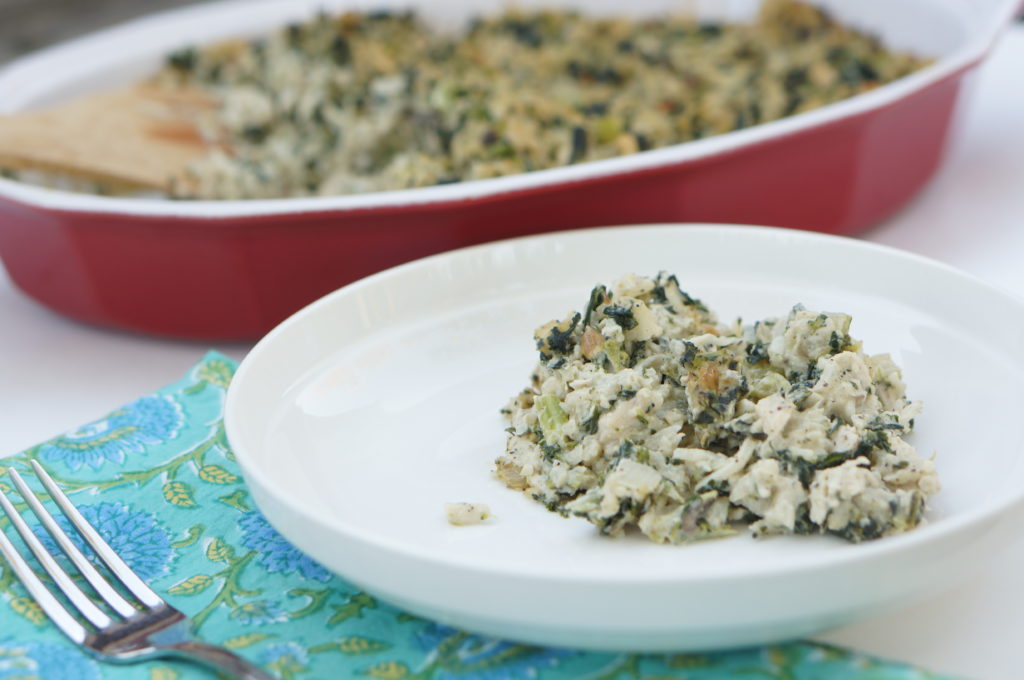 Chicken and "Rice" Casserole
This recipe is adapted from Danielle Walker's Against All Grain "Meals Made Simple" cookbook. It is an elevated and healthier version of a comfort food classic--with all the flavor of your favorite casserole but without all the heavy ingredients!
Ingredients
SAUCE
1 cup raw cashews
¾ cup chicken stock (I use the poaching liquid from the chicken)
2 tsp dried thyme
1 tsp sea salt
2 tsp fresh lemon juice
CASSEROLE
3 Tbsp ghee, butter, or olive oil
3 cloves garlic, minced
½ onion, diced
4 oz. mushrooms, finely diced
4 cups riced cauliflower*
8 oz broccoli florets, chopped
1½ tsp sea salt
¾ tsp black pepper
1-2 chicken breasts, cooked and shredded**
Instructions
Soak the cashews in a container filled with boiling water for 30 minutes.
Preheat oven to 375 degrees and grease a casserole dish.
Saute the onions, garlic, and mushrooms in the ghee (or other) about 3 minutes until onions start to become translucent. Add in the broccoli, salt, and pepper and let it cook several minutes for the broccoli to start to become tender. Add in the cauliflower and turn off the heat.
To make the sauce, drain the cashews, and place all the ingredients for the sauce into a blender. Blend on high for 30-45 seconds until smooth.
Stir in the shredded chicken and the sauce into the broccoli mixture, and pour into the casserole dish.
Cover the dish with foil and bake for 15 minutes. Uncover and bake another 10 minutes.
Notes
*To rice the cauliflower, I use the grater attachment on my food processor to make it go lickity split. I find that one normal large head of cauliflower will yield about 8 cups, which I divide in half and refrigerate the other (works well in place of rice for fried rice too!). You can also use a standard box grater if you do not have a food processor.
**I usually just use one and add extra mushrooms and broccoli (and sometimes I like to add chopped kale too), but you can certainly use two if you want more chicken in there! To poach chicken, I will put the raw chicken in a pot and cover with water. Sometimes I will add some celery or onion to the water as well to help season the chicken, and then let it simmer 25-30 minutes, until cooked through. Alternatively, you could use some leftover roasted chicken, or make it extra easy and use a precooked rotisserie chicken! If you go that route though, I would decrease the amount of salt in the recipe.
---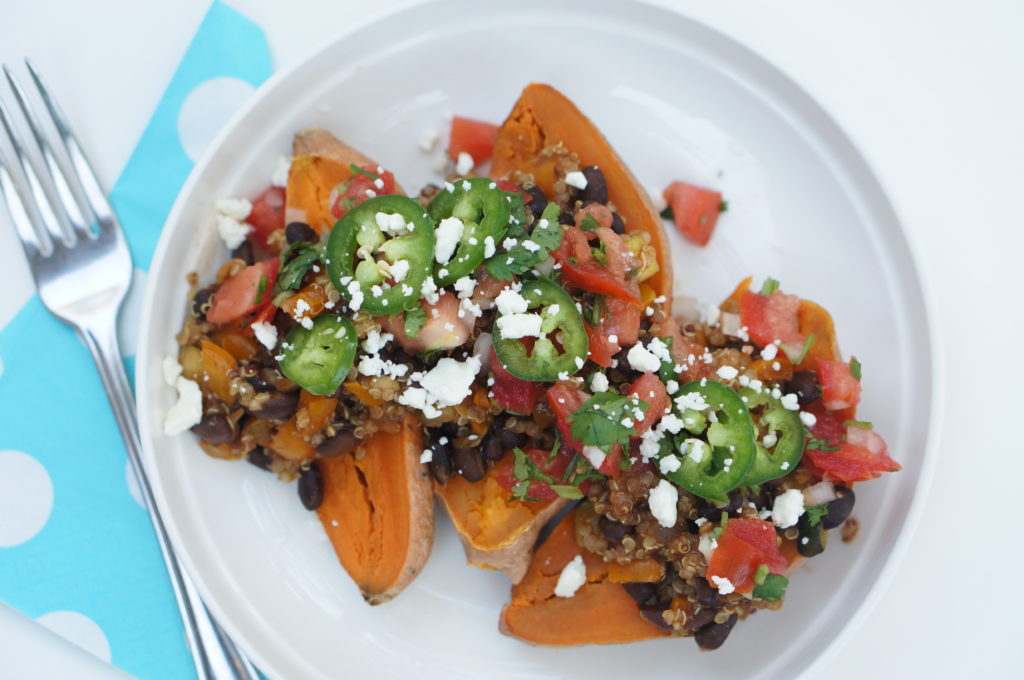 I was on my way home from running errands at 5:30 today (if going to Krispy Kreme dressed like a pirate to get free donuts counts as an "errand"…), and was trying to think what I could make real fast since the hungry husband was going to be home in 30 minutes. I was planning on making stuffed bell peppers, but the husband gently suggested he was really hungry and wanted something quite filling. Plus, I wasn't really feeling stuffed bell peppers, so forget that idea. I asked him for any ideas— "baked potatoes and chili" he said. hm. Well, his idea did help me, and this meal came about from his suggestion!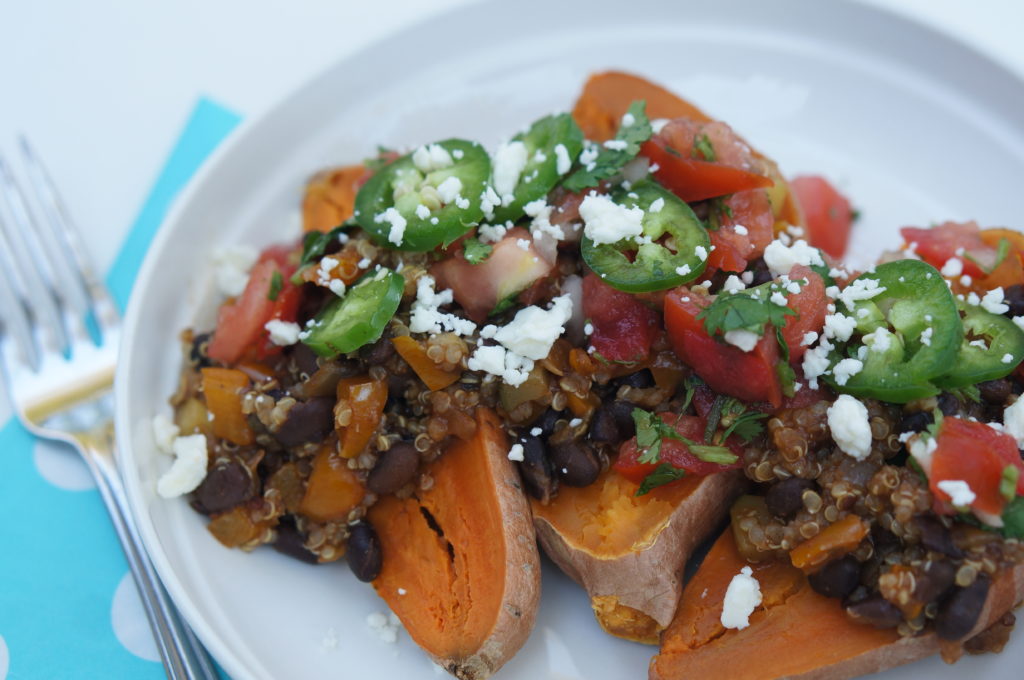 But first to address the issue of baking a sweet potato and not having time…. the microwave can be quite the time saver.  Although baking is obviously best, when you don't have time, it works! All of the ingredients are very similar to the ingredients I use to make sweet potato and black bean enchiladas actually, but no tortillas and tedious rolling up needed! Realizing this, I wanted to make a slight sauce with the mixture. Since I didn't want to make a full on enchilada sauce, I added mexican seasoning, and tomato paste thinned with some of the bean liquid. *and disclaimer, these pictures do show some quinoa in the mixture.. that is just because I had about 1 cup of it in the fridge I needed to use up! But that was the only reason I added it, I did not include it in the recipe and it really is not needed.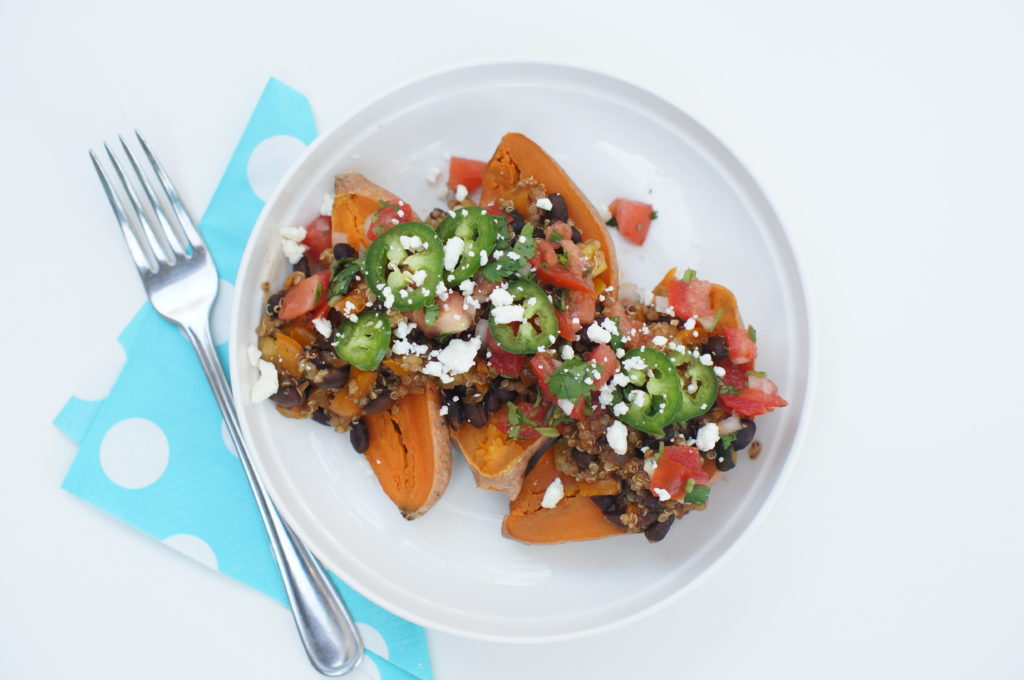 Top with a bright and fresh pico de gallo and any additional toppings, and a colorful and filling dinner is on the table fast!

Mexican Loaded Sweet Potatoes
A quick and filling vegetarian dinner that is full of flavor!
Ingredients
4-6 sweet potatoes
2 Tbsp olive or coconut oil
1 onion, chopped
1 zucchini. diced
1 bell pepper, diced (red, orange or yellow)
3 garlic cloves, minced
¾ tsp salt
1 tsp tomato paste
2-3 tsp Mexican/Taco Seasoning*, recipe follows
1 can black beans, drained and reserve liquid
optional toppings-- feta/cotija cheese, jalapenos, radishes, guacamole, sour cream
MEXICAN SEASONING:
1 Tbsp chili powder
2 tsp cumin
1 tsp paprika
1 tsp oregano
½ tsp garlic
FOR THE PICO**:
2 large tomatoes
2 Tbsp onion, diced
½ small garlic clove, minced
½ lime, juiced
handful of cilantro
salt, to taste
Instructions
Prick sweet potatoes once or twice with a fork and bake on 400 degrees for 45-60 minutes, until a fork can easily pierce through the sweet potato.***
Make the pico: Slice tomatoes in half, pull out extra liquid and seeds and toss, then diced the tomatoes up. Add in the rest of the ingredients for pico and set aside.
Heat a large saute pan with the oil and then add the onions, zucchini, bell pepper, garlic, and salt. Cook 5-10 minutes until onions are translucent and zucchini is tender.
Stir in the tomato paste, then add the drained beans, seasoning, and 3 Tbsp of the bean liquid.
Let it simmer for 5 minutes, then taste and add more salt/seasoning if needed, and more bean liquid to make it more saucy, if desired.
To assemble: Slice sweet potatoes in half, lightly sprinkle with salt and pepper, then add the bean and veggie mixture, and top with the pico and any optional toppings.
Notes
*If using storebought, make sure you check if there is salt already added, and decrease the salt in the recipe if there is. To make the mexican seasoning mix, I usually double or triple the recipe and keep it in an empty spice container.

**Need to save time? Use a storebought pico or salsa

***Alternately, if short on time, prick and pop them in the microwave! This takes the cooking from 60 minutes to oh, about 6. 😉 Cook it for 5 minutes first, then see how soft they are and add more time from there. They should not need more than 10 minutes total (mine are done in 6-7 minutes). The skin wont be as good as it is when baked, but seriously, sometimes the time difference is all that matters. 😉
---