Category Archives:
breakfast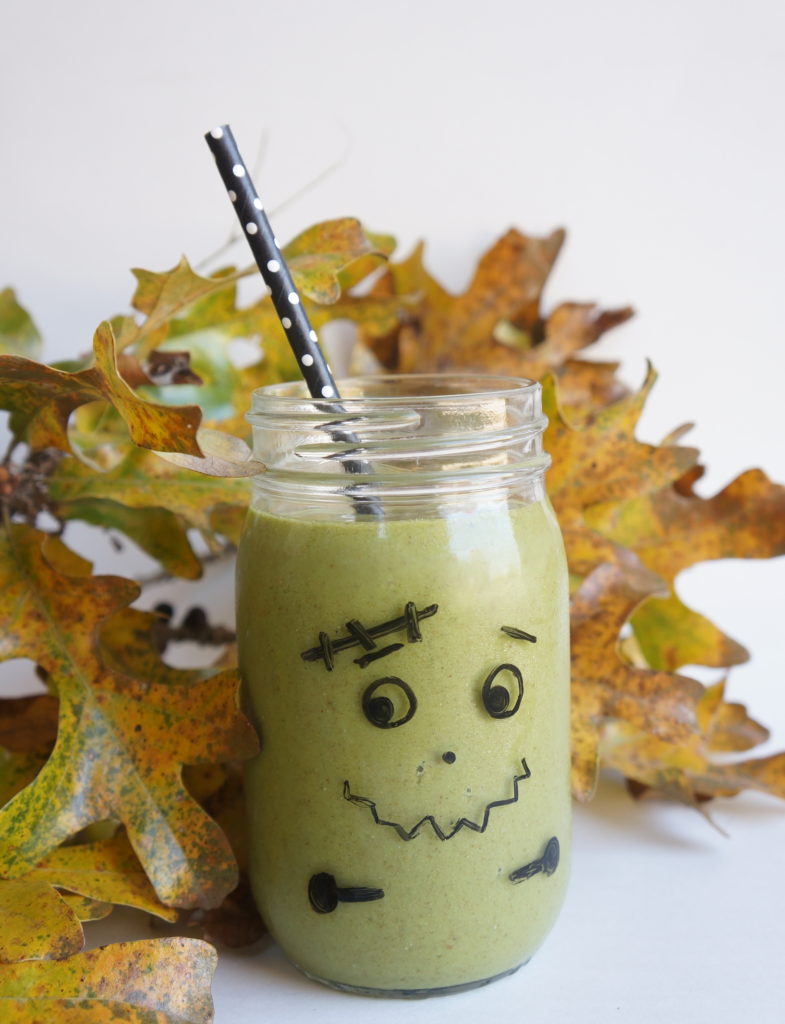 I'm always trying to find ways to make food fun for my kids. My son particularly loves green shakes or drinks, just because I call them "green monster" drinks! He was rather pleased with this different green shake, this time a "Frankie Shake". 😉 Before filling it with the cold liquid, use a dry-erase marker to draw a silly face on the glass jar or cup. And this drink really is a Frankenstein green color, although unfortunately the color got washed out in the pictures. 🙁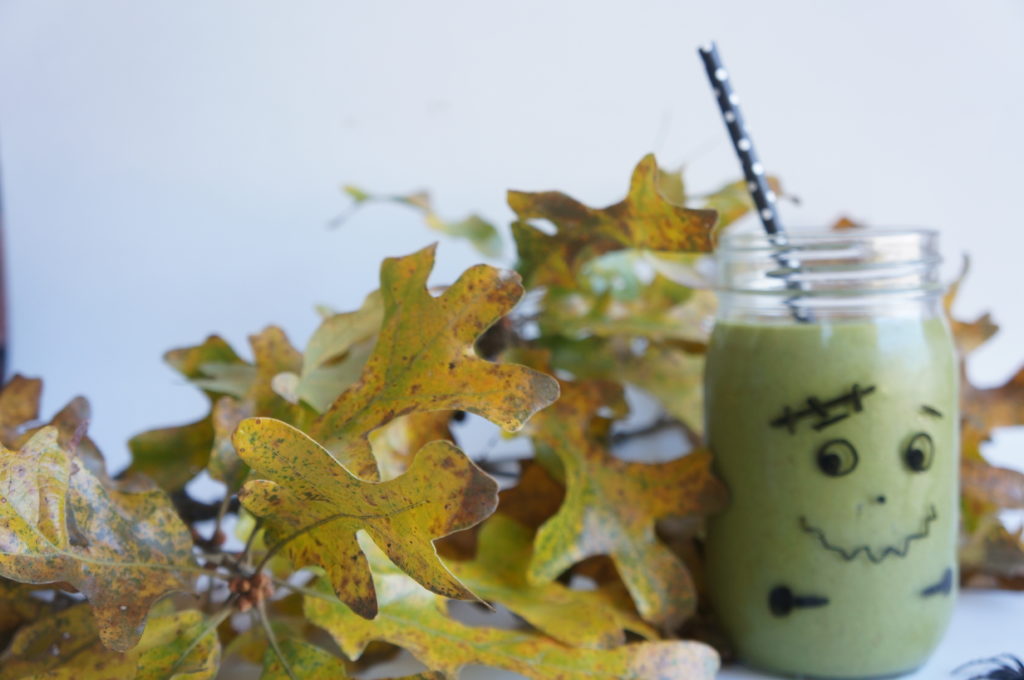 When I gave this drink to the hubby to taste test (and without saying the name or any ingredients in it), he seemed a bit puzzled and said, "This reminds me of something…." When he couldn't quite put his finger on it I suggested "…apple pie?" "Yes! That's it!" BOOM! shacka-lacka! I consider that a success.

Apple Pie Frankie Shake
A tasty breakfast shake reminiscent of apple pie and ice cream and with a festive Frankenstein color!
Ingredients
½ cup apple cider or juice*
½ cup milk (any kind- dairy or non dairy)
1 apple, peeled and cored**
2 dates, pitted
1 Tbsp chia seeds
½ tsp vanilla extract
½ tsp cinnamon
large handful of fresh spinach
handful of ice
Instructions
Very difficult--- Put all ingredients into the blend and blend away! 😉
Notes
*Originally I had the recipe as 1 cup milk and no cider, but when testing it I ran out of milk and put apple cider in, and all taste testers in the house concurred that it tasted even better! So if you don't have cider, it will still taste great with all milk! If using all milk, you can add an extra date if more sweetness is desired, since the apple cider adds sweetness on its own.

**I've tried with unpeeled apples, and trust me, I don't like unnecessary steps but this does make a difference! With the peel it just has a bit of a strange texture and tastes a bit too fibery for my taste..

If you would like to turn this into a dessert shake-- omit the ice and chia (unless you want extra protein) and add a large scoop of vanilla ice cream!
---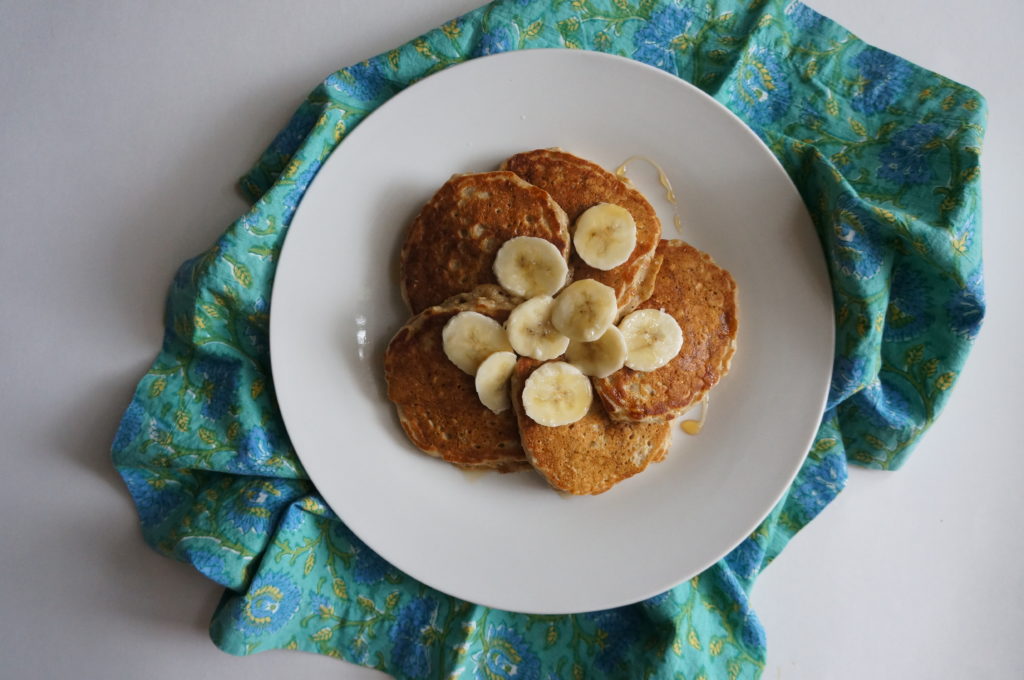 When I lived in Pennsylvania, I had a friend that was my best buddy. She would pick me up often and we would go to costco and trader joe's together, or to joanns and just look at the pretty fabrics. It was quite a mutual relationship as I so desperately needed a friend and she wanted a friend as well. Part of the way she would lure me over to her house in the morning was by inviting me over for breakfast, and then somehow we would end up spending the whole rest of the day together! Ah, the days of having just child, and one that was so easily entertained and content to spend time just chilling in his car seat! Whole wheat waffles, puffed oven pancakes and these oatmeal pancakes were her specialties. And if you know me, I love a good breakfast, so I was very easily lured over! We both moved away and sadly we have only seen each other once since those days in Philly 7 years ago, but Talane still lives on as these have become a staple in our house!

Talane's Oatmeal Pancakes
These are pancakes that you can make any day of the week! Because unlike traditional pancakes, these are more nutritious ones filled with cinnamony goodness! Make sure to read the extra notes at the bottom for other options and also to adapt them for gluten-free, egg-free, dairy-free diets. These are adapted from a recipe given to me from my friend, Talane. <3
Ingredients
1 cup quick-cooking oats*
½ cup whole wheat flour
⅛ tsp salt
½ tsp baking powder
½ tsp baking soda
½ tsp cinamon
1 Tbsp sugar
1 egg
¼ cup plain yogurt**
¾ cup milk
2 Tbsp oil
Topping options: bananas and maple syrup (my favorite), pears, sauteed apples, etc
Instructions
Mix the dry ingredients together with a fork.
Crack the egg right into the same bowl, add the milk and oil, and use the fork to beat the egg and mix it all together with the dry.
Heat your griddle to 375 degrees and when hot, grease or spray the griddle and scoop/pour out the batter into small circles (I love that the entire batch of batter will all fit on my griddle at once! It usually makes 8-10 small pancakes)
Add toppings if desired.
Notes
*I've used regular oats before, and surprisingly it really does make a difference! Quick oats are the winner.

**If you don't have yogurt you can leave it out and just increase milk to 1 cup and add 1 tsp vinegar.

To make it gluten-free (or just to switch it up!)-substitute buckwheat flour for the whole wheat. Or you can also sub with gluten-free flour blend.

To make it dairy free- replace the yogurt and milk with any alternative milk (so 1 cup total). My favorite with these is almond milk, but it will work great with any.

To make it egg-free, make a flax egg: 1 Tbsp ground flax mixed with 3 Tbsp water. Let sit a minute or two and then combine with wet.

Ironically, I'm allergic to oats. So even with all the allergy-friendly alternatives I still can't eat them any more! Ha! So sad! But the hubby and kids still get to enjoy them. And all of you need to make them and enjoy them for me. 🙂
---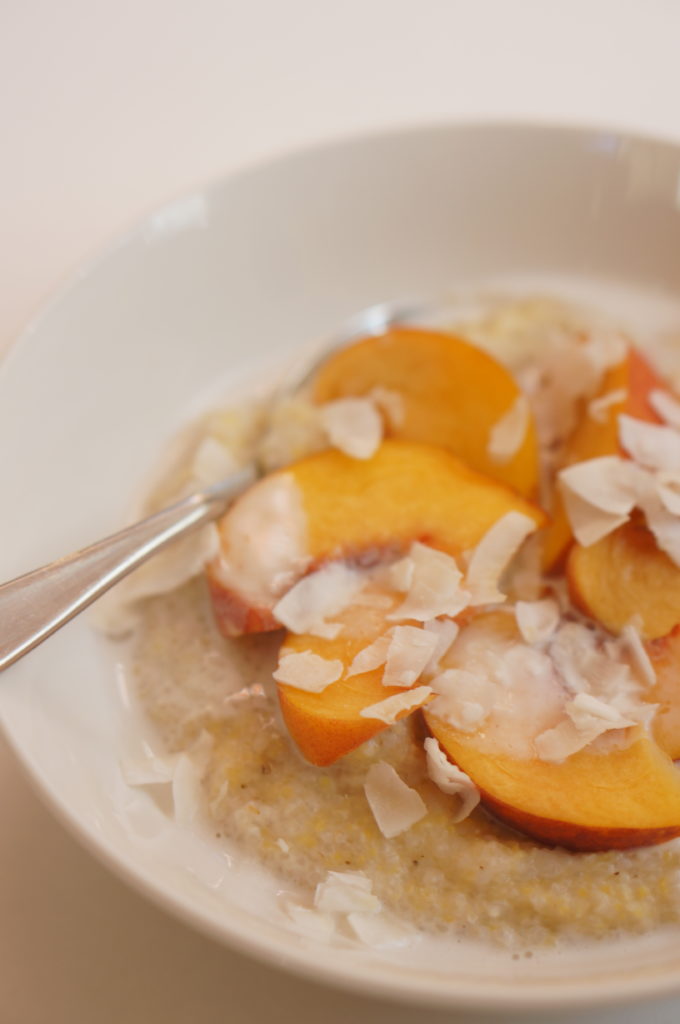 Nothing warms me up better than a bowl of hot cereal on a crisp fall or winter morning. When I found out over a year ago that I have a severe oat allergy, one of my first thoughts was how I was going to survive without my oatmeal in the morning! Luckily, I discovered other options (that had to be wheat free as well), including millet, buckwheat, and quinoa (made in a creamy way, not dry and fluffy). But my favorite, which my sister-in-law introduced to me, is Bob's Red Mill "Mighty Tasty Hot Cereal" which is a blend of brown rice, corn, sorghum, and buckwheat.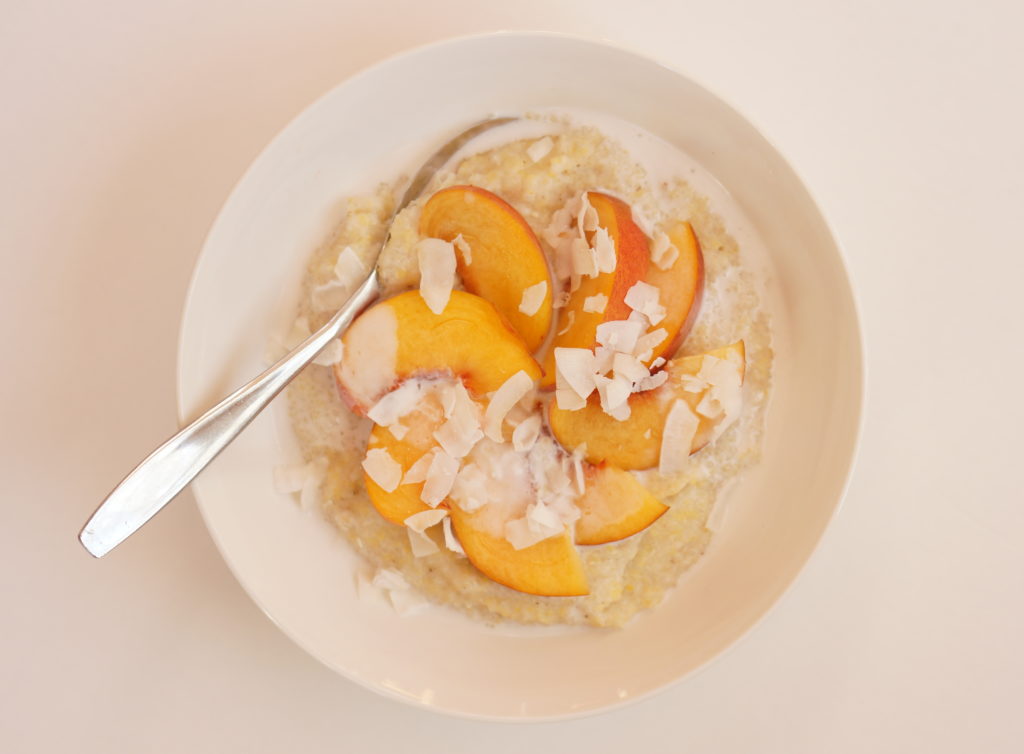 Since I'm the only one in the house that has allergies (and alternative options are more expensive), this recipe yields one serving, but you could easily double the amount, or make it with cream of wheat or oatmeal (which is how I make it for the kids). The "Mighty Tasty Hot Cereal" doesn't keep very well, so I only make the amount that will be eaten right away. The coconut milk makes it oh-so-very creamy but I think the real secret to the recipe is the vanilla extract. That is what makes it have an almost peach ice creamy taste! And anything that is reminiscent of dessert for breakfast is a win in my book.

Peaches and Cream Hot Cereal
This bowl will warm you up and will taste like a breakfast treat!
Ingredients
¾ cup water
¼ cup Bob's Red Mill "Mighty Tasty Hot Cereal" *
teeny pinch of salt
¼ cup coconut milk**, plus more for pouring on top (from a can, make sure to shake the can before opening!)
1 tsp maple syrup
¼ tsp vanilla extract
½ peach, sliced
1 Tbsp coconut flakes (optional)
Instructions
Boil the water in a pot and stir in the hot cereal and salt.
Let it cook, covered 6-8 minutes, until water has been absorbed and cereal is cooked.
Stir in coconut milk and maple syrup, and let it cook another minute or two more if necessary
Off the heat stir in the vanilla extract.
Pour into a bowl, top with peaches, and coconut and extra syrup (if desired).
Drizzle extra coconut milk over it all and enjoy!
Notes
*You can certainly do this with oatmeal or other kind of hot cereal, cooking according to instructions but using slightly less water (to stir in the coconut milk)

**You could also use half and half or heavy cream if you do not need to avoid dairy
---