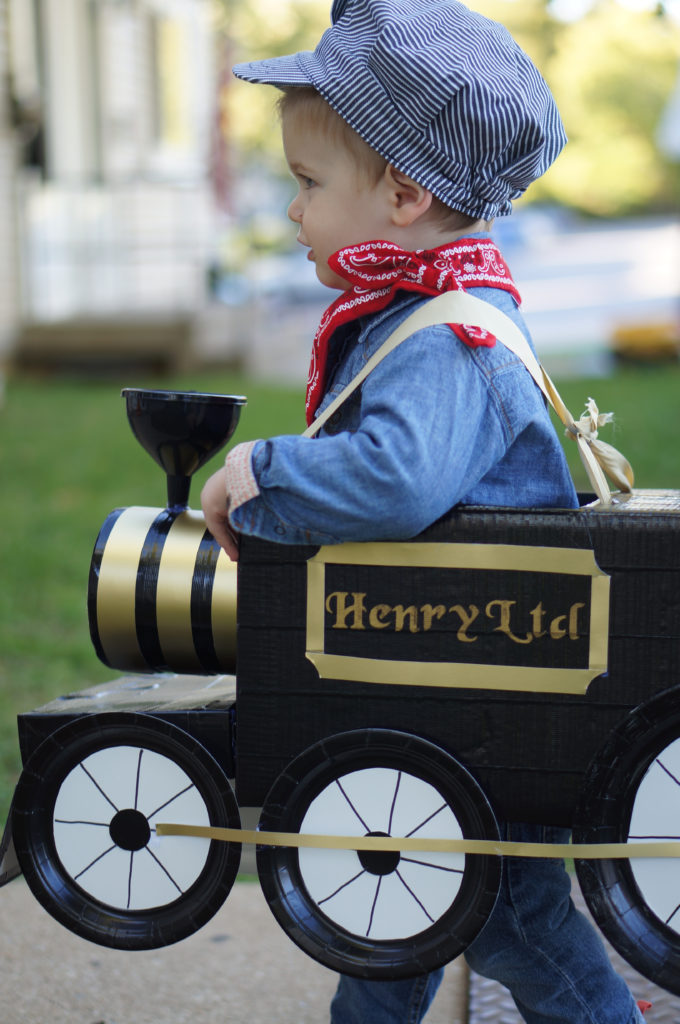 As I've been going through past Halloween costumes, I can't help but think that each year is my favorite! 😉 Living in Kansas City at the time, train tracks and real cargo-carrying trains were in full function all around. Every time we went to the park, we would see at least one set of trains pass by. Our two-year old boy would get so excited every time he would see or hear a train that I thought it would be fun to make him into a little train conductor with an attached train for Halloween!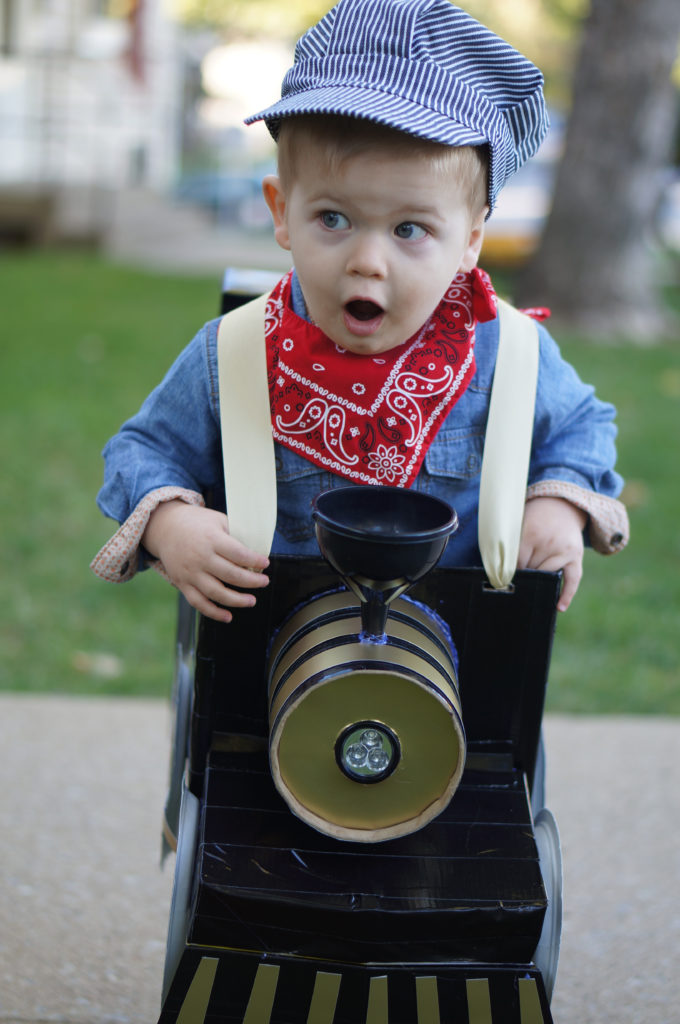 He was pretty excited. 🙂 I didn't start on this one until I believe the week of Halloween, so I remember staying up well past midnight the night before a neighborhood trunk or treat event, in a mess of hot glue and duct tape, to get it all finished up!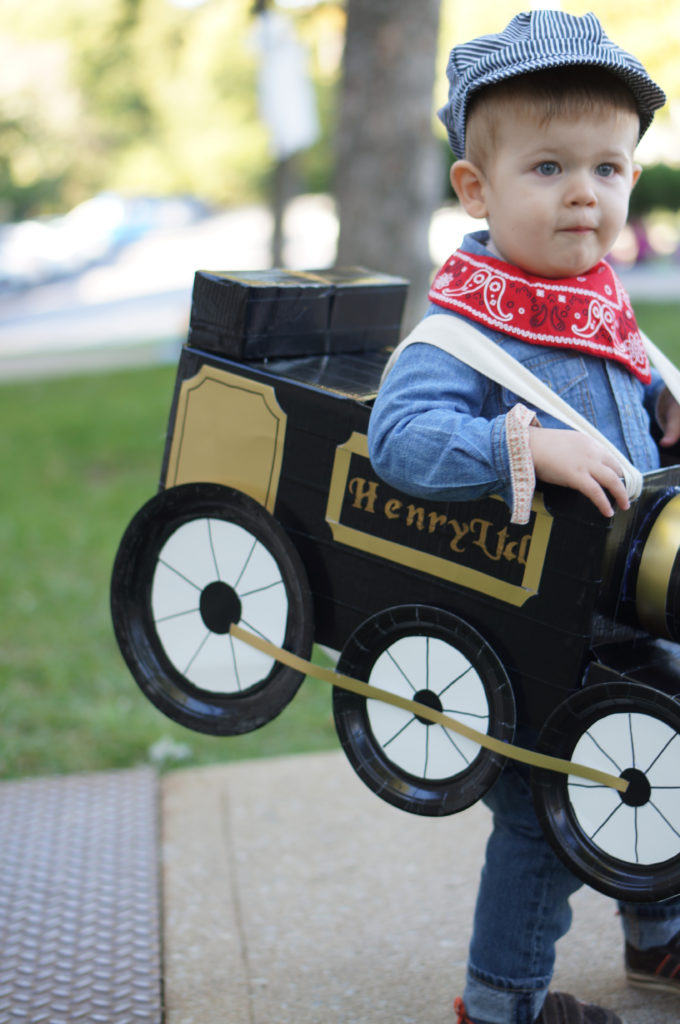 I found lots of ideas from pictures on Pinterest (many were thomas the train) which helped in the construction and there was one in particular that I used for the design, which can be found here (I wish I had gotten pictures of Henry on the train tracks like they did! So cute! but alas, I just ran out of time).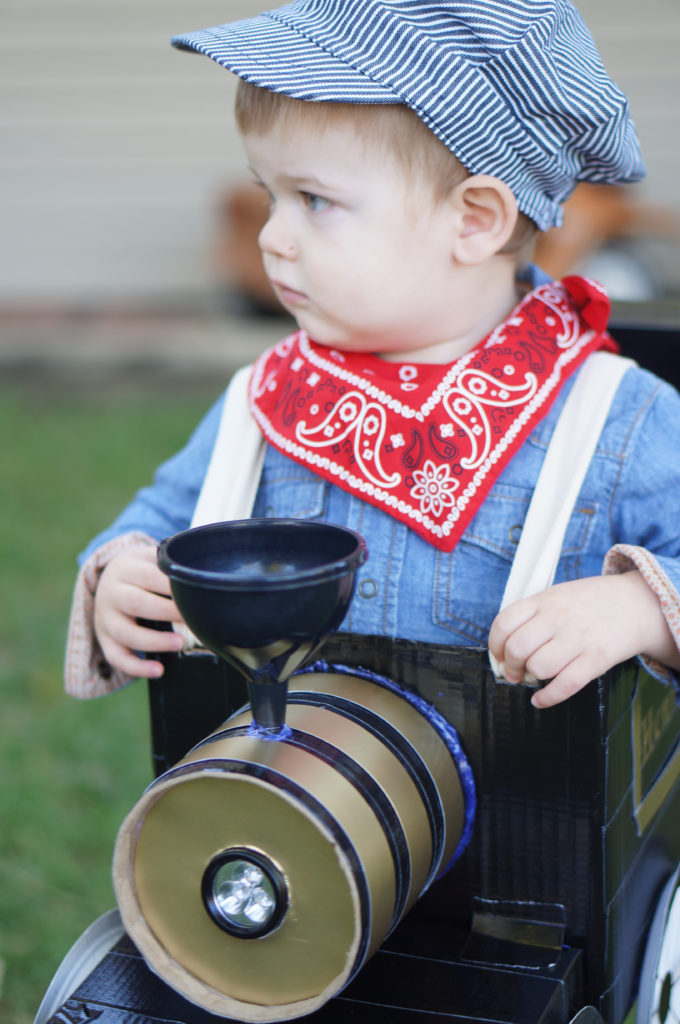 As for the construction, it starts with a diaper box! I tucked the flaps in except the flaps in back. The front box is a cereal box laying flat, the round part in front (sorry, don't know the technical train term hah!) is a cut off oatmeal box with a funnel (from dollar tree) that was pushed into the box and attached (I really wanted a gold or silver one, but couldn't find one and I didn't think of just spray-painting it at the time). The back part is butter boxes. I covered all these different parts separately with the black duct tape first, although it would have been more secure if I had taped them down to the diaper box first, and then do the nice tape to cover it all. As it was, I just hot-glued the taped pieces, and they did have some issues peeling off.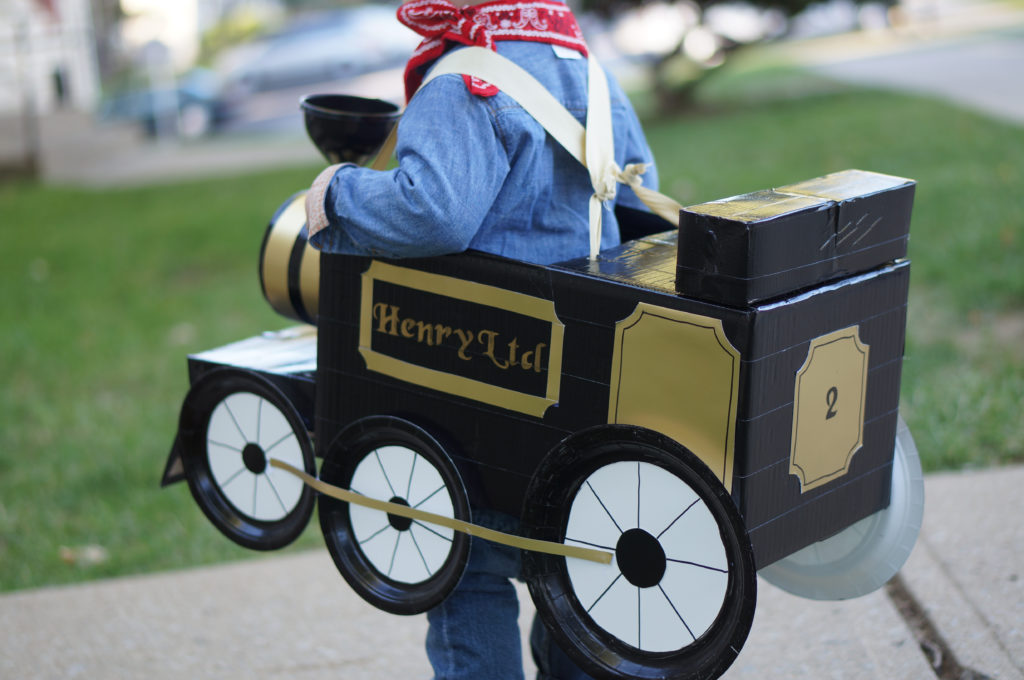 On the first trial run with the train on Henry, the straps were too far apart and he kept pulling them off (since they were pretty much coming off on their own any way).  I realized I needed to criss-cross them in back and make them a little longer which helped solve the problem.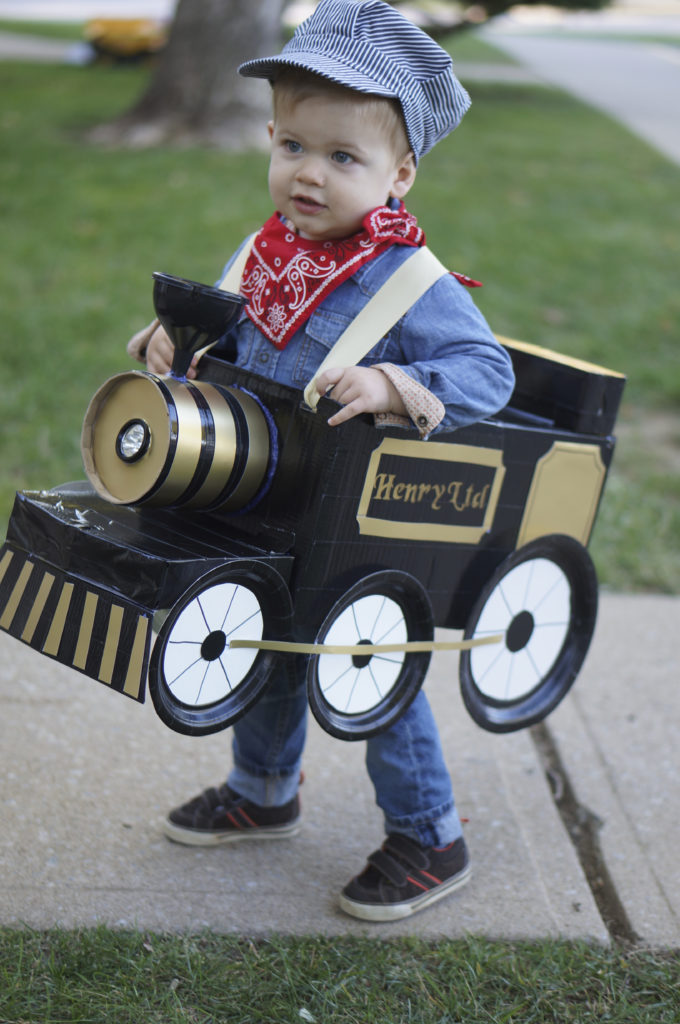 I bought a gold posterboard and cut it up for decorating. I stenciled "Henry Ltd" on the side and a "2" on the back (since he was two years old) with some gold paint. Black paper plates, with white paper circles inside made the wheels, attached with a strip of the gold posterboard, I picked up a set from Toys R Us (it was either $7 or $9 dollars) which included the train conductor hat, bandana, and train whistle. It was so cute him trying to so hard to blow and make a whistle sound! His very cute cousin is so sweet to pass on his clothes to Henry, so this adorable jean shirt was from him and worked perfectly.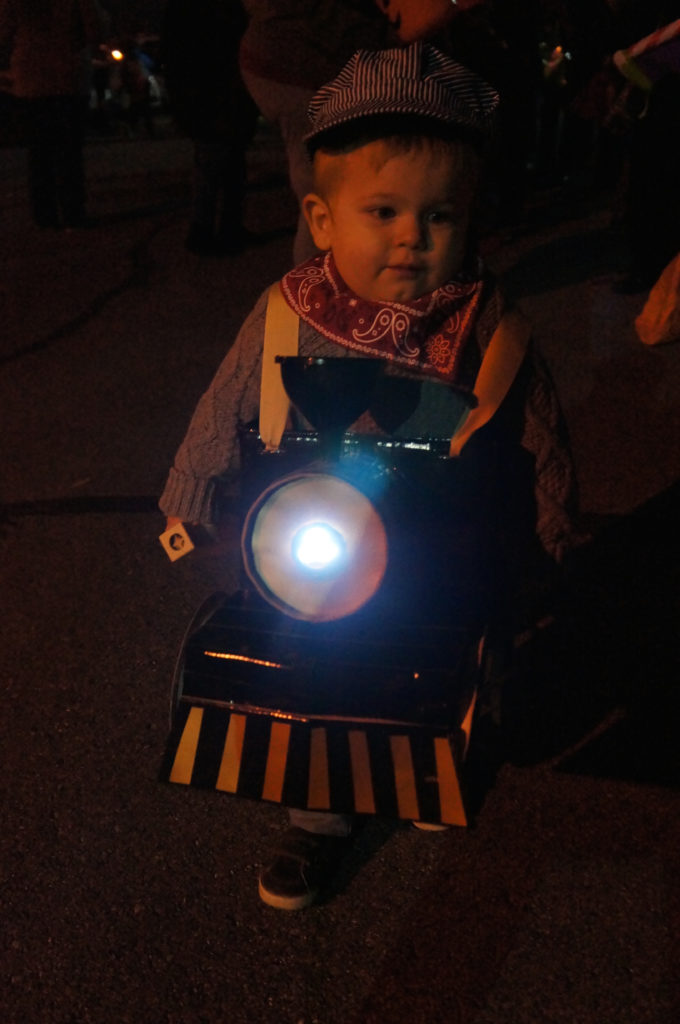 But I must say my very favorite feature of the costume was the flashlight. My mother-in-law came out for a visit right before Halloween and when I told her I was planning on making a train costume, she suggested it would be fun if I attached a light to the front. Such a fun idea! I cut a small hole just big enough for the flashlight to go through but be snug, and Henry thought it was the greatest thing putting his hand through the oatmeal box part and getting to turn it on and off!

Plus look how dark it is! He definitely needed that light. This was a few days before Halloween, at a Trunk-or-Treat event.
Moving on to the other costumes… (and apologies for blurry photos, I was trying to take pictures by myself with a tripod and apparently I couldn't get it focused!)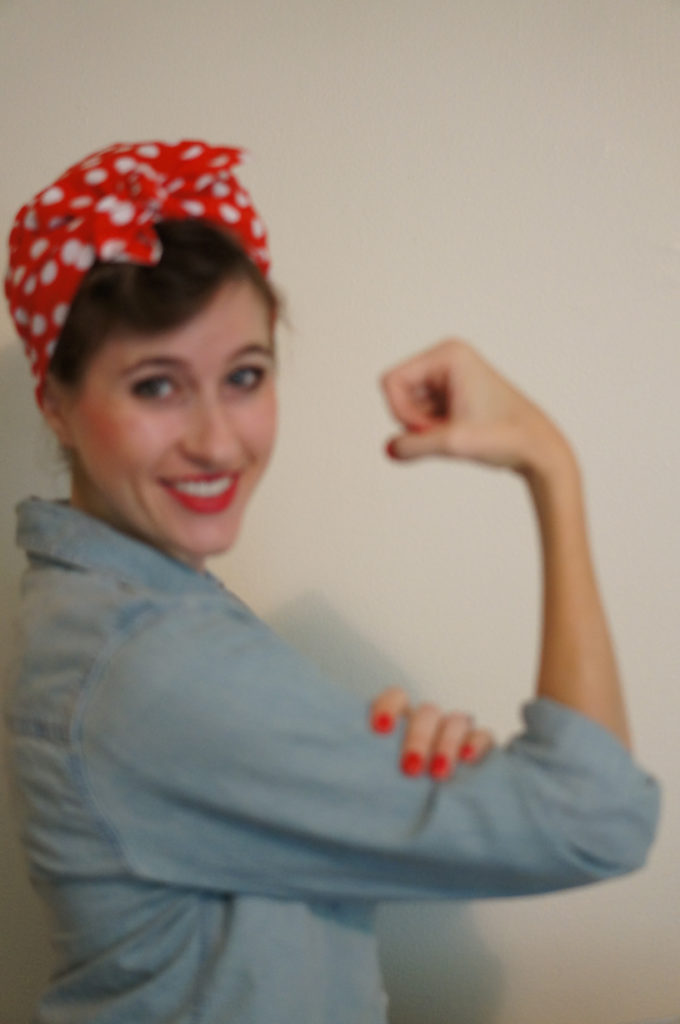 Rosie the Riveter! Such a fun easy costume to put together. jeans, jean shirt, red polka dot fabric that I just tied up on my head, swirly bangs and red lipstick. Done!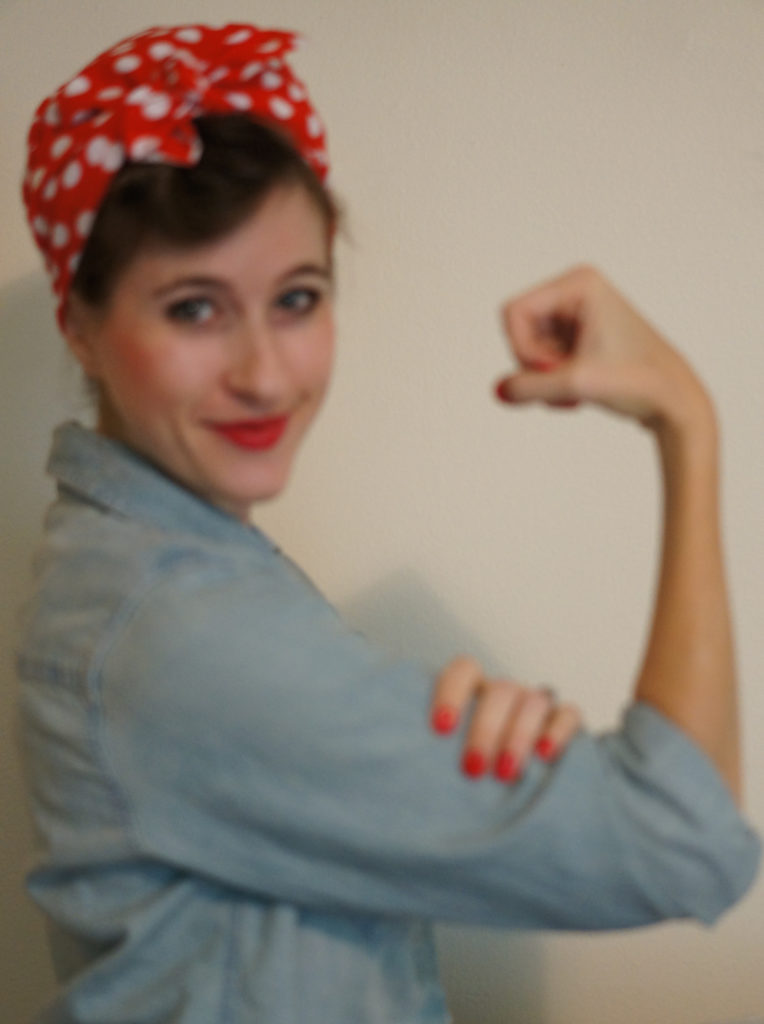 I think it looks pretty close, although I don't look quite as tough (or muscular, ahem). When I think of riveters it remind me of middle school when I used to be in drama and one of the musicals we did took place during WWII. Although I was cast as the unassuming secretary that turns out to be a spy, I still remember singing the riveter song–"rat-a-tat-tat that rivet guuu-uun, rat-a-tat-tat that rivet huuu-uun" and the riveters wore overalls and carried tin pails.
I kinda thought we seemed a bit coordinated in our costumes– jeans, red and white bandanas… He's my buddy.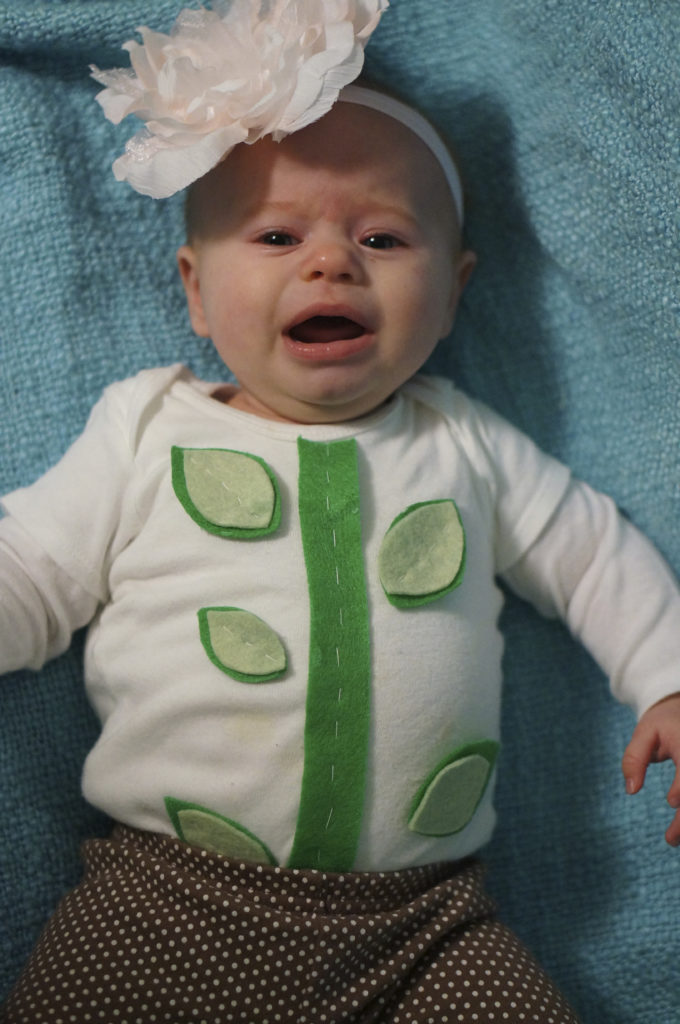 For Jane's costume I had seen this picture here, and thought it looked so cute and simple. Not sure how Jane felt about it though… 😉 I didn't want to waste a onesie on the costume, so I just loosely hand stitched the felt stem and leaves so that I could easily cut it off after. She happened to have these brown pants and the mega huge flower bow which worked great.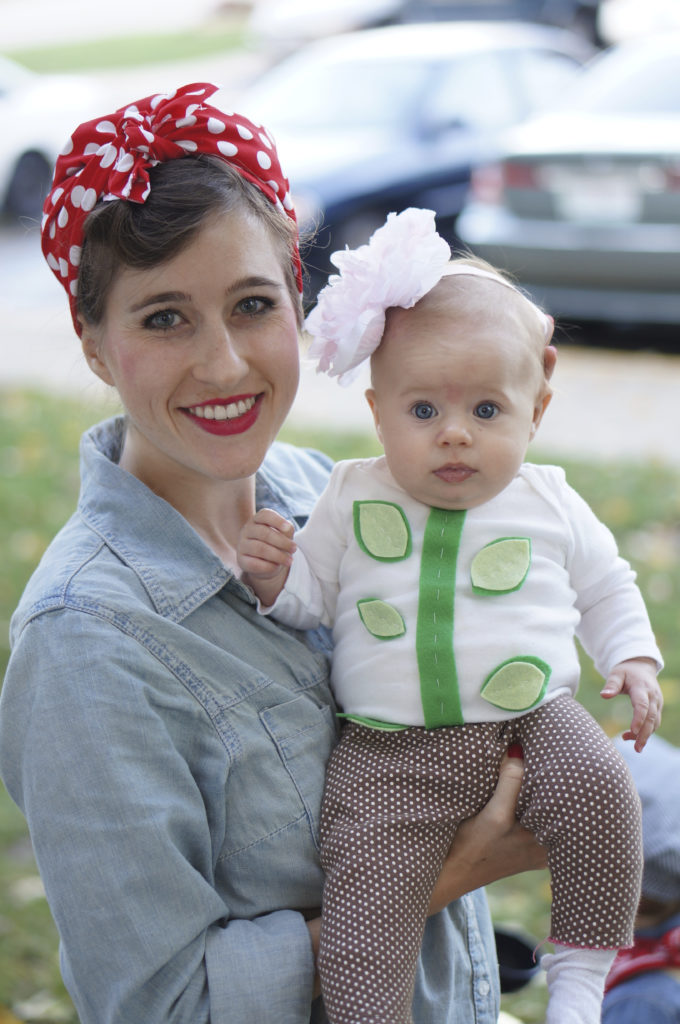 This must have been the year Jesse went as a "dental resident on his day off" haha! Don't worry, the next year I rope him into the fun.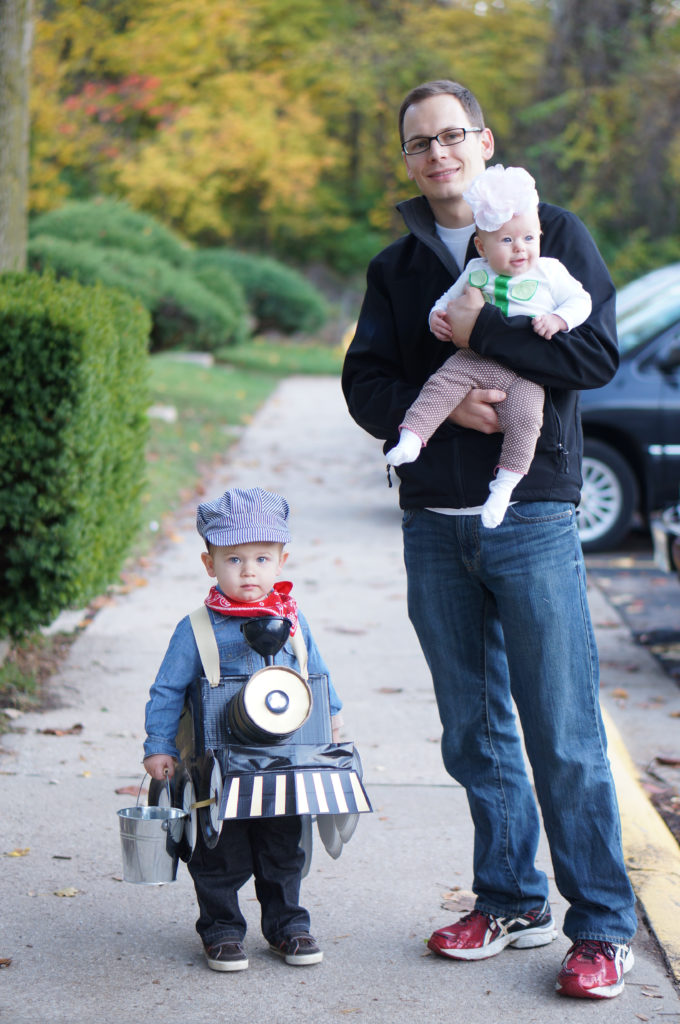 A serious trick-or-treater. Henry loved the sound it made as the candy hit the tin pail! And seriously, I have such a internal struggle with Halloween and candy. I seriously want to be that family that passes out toothbrushes or apples…but alas, we don't. Or have you seen those honey sticks at farmer's markets? That would be perfect! I would feel good passing those out. 🙂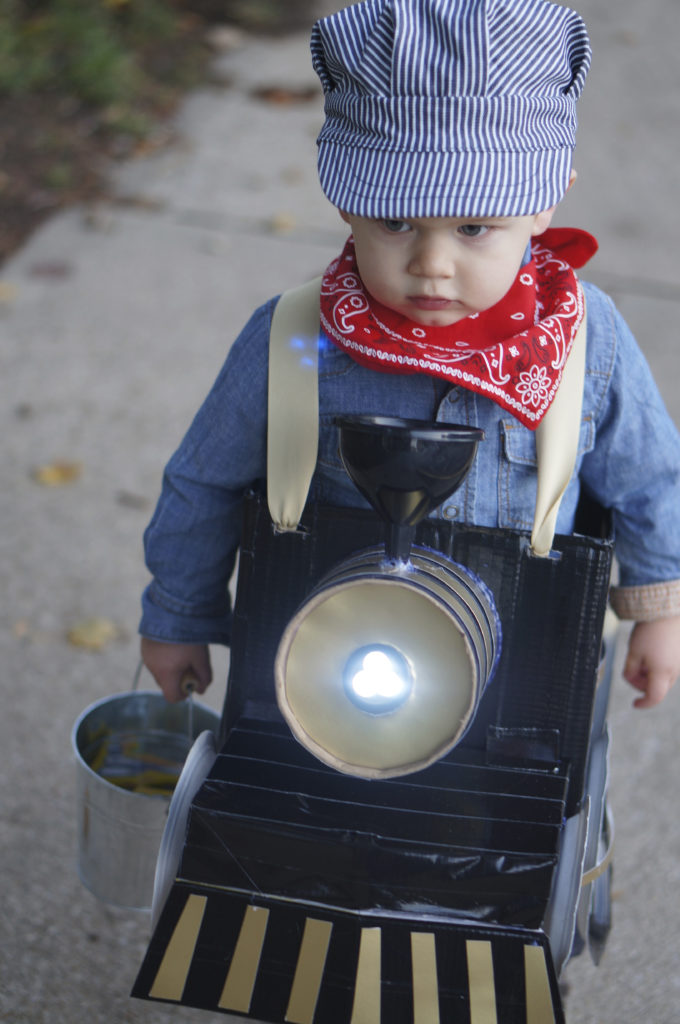 Enjoying his spoils. 🙂 I let Henry pick out one thing and the rest got tossed in the bowl with the other candy to pass out. Funny enough, he happened to go for the cheese puffs, not even the candy! haha!! Another year done!