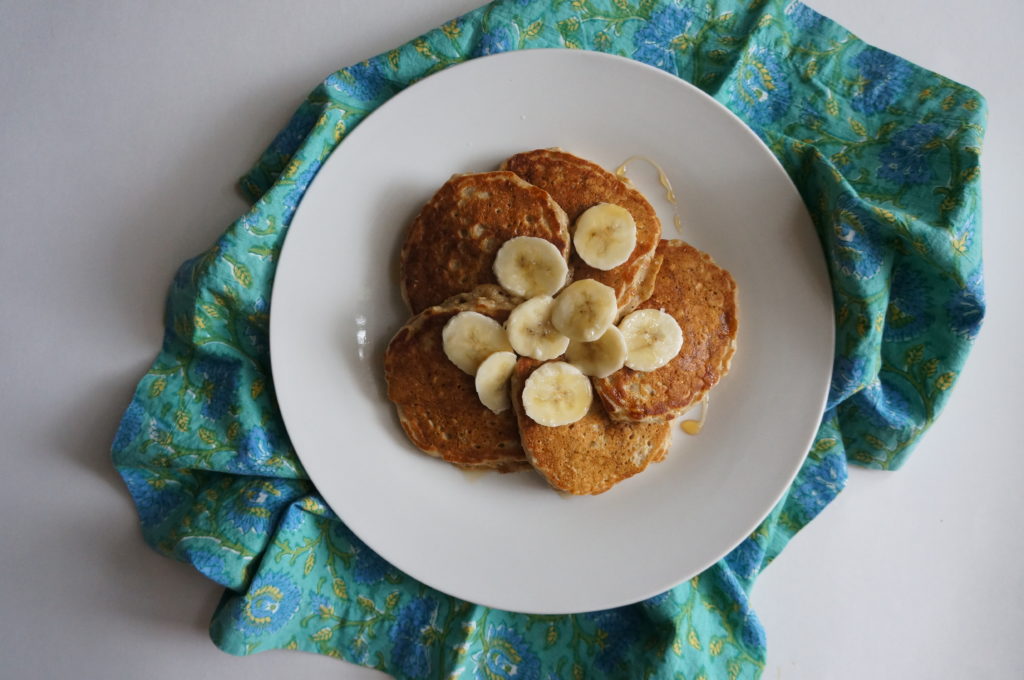 When I lived in Pennsylvania, I had a friend that was my best buddy. She would pick me up often and we would go to costco and trader joe's together, or to joanns and just look at the pretty fabrics. It was quite a mutual relationship as I so desperately needed a friend and she wanted a friend as well. Part of the way she would lure me over to her house in the morning was by inviting me over for breakfast, and then somehow we would end up spending the whole rest of the day together! Ah, the days of having just child, and one that was so easily entertained and content to spend time just chilling in his car seat! Whole wheat waffles, puffed oven pancakes and these oatmeal pancakes were her specialties. And if you know me, I love a good breakfast, so I was very easily lured over! We both moved away and sadly we have only seen each other once since those days in Philly 7 years ago, but Talane still lives on as these have become a staple in our house!

Talane's Oatmeal Pancakes
These are pancakes that you can make any day of the week! Because unlike traditional pancakes, these are more nutritious ones filled with cinnamony goodness! Make sure to read the extra notes at the bottom for other options and also to adapt them for gluten-free, egg-free, dairy-free diets. These are adapted from a recipe given to me from my friend, Talane. <3
Ingredients
1 cup quick-cooking oats*
½ cup whole wheat flour
⅛ tsp salt
½ tsp baking powder
½ tsp baking soda
½ tsp cinamon
1 Tbsp sugar
1 egg
¼ cup plain yogurt**
¾ cup milk
2 Tbsp oil
Topping options: bananas and maple syrup (my favorite), pears, sauteed apples, etc
Instructions
Mix the dry ingredients together with a fork.
Crack the egg right into the same bowl, add the milk and oil, and use the fork to beat the egg and mix it all together with the dry.
Heat your griddle to 375 degrees and when hot, grease or spray the griddle and scoop/pour out the batter into small circles (I love that the entire batch of batter will all fit on my griddle at once! It usually makes 8-10 small pancakes)
Add toppings if desired.
Notes
*I've used regular oats before, and surprisingly it really does make a difference! Quick oats are the winner.

**If you don't have yogurt you can leave it out and just increase milk to 1 cup and add 1 tsp vinegar.

To make it gluten-free (or just to switch it up!)-substitute buckwheat flour for the whole wheat. Or you can also sub with gluten-free flour blend.

To make it dairy free- replace the yogurt and milk with any alternative milk (so 1 cup total). My favorite with these is almond milk, but it will work great with any.

To make it egg-free, make a flax egg: 1 Tbsp ground flax mixed with 3 Tbsp water. Let sit a minute or two and then combine with wet.

Ironically, I'm allergic to oats. So even with all the allergy-friendly alternatives I still can't eat them any more! Ha! So sad! But the hubby and kids still get to enjoy them. And all of you need to make them and enjoy them for me. 🙂