I promise I will get back to posting about food and other things real soon! We are just in full Halloween mode over here which means lots of costume-making! I have one more year to get caught up and then I'll post this year's! And then I will post a recipe for you all. What would you like me to post first– Chocolate Sorbet or Taquitos? Comment below and that's what I will do!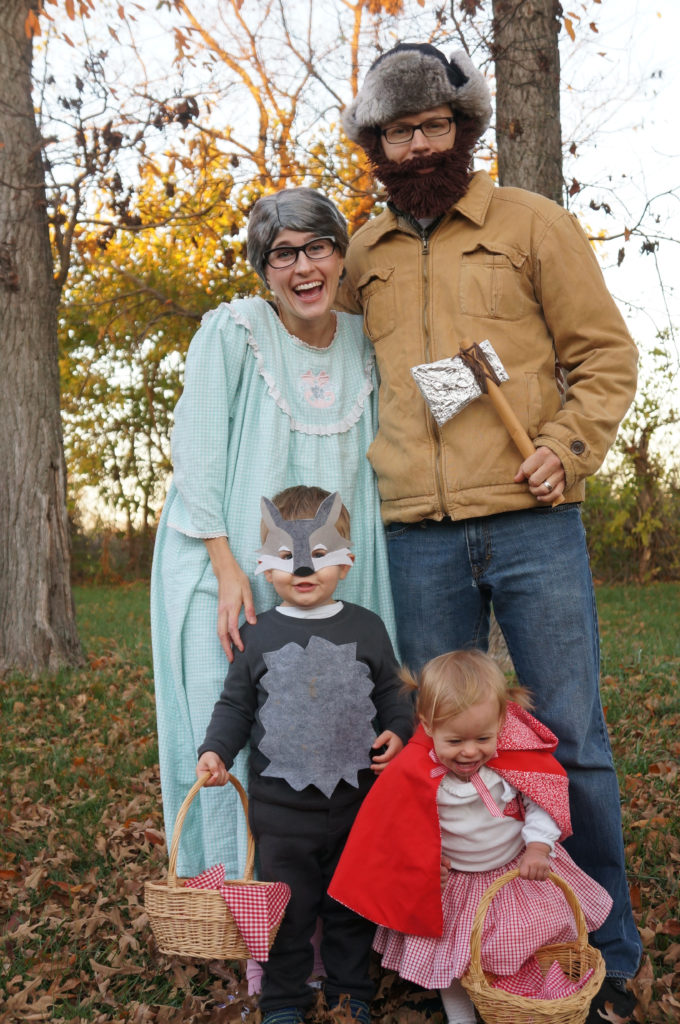 This was the first year we had a full family themed costume, and Little Red Riding Hood was a good choice for a family of four!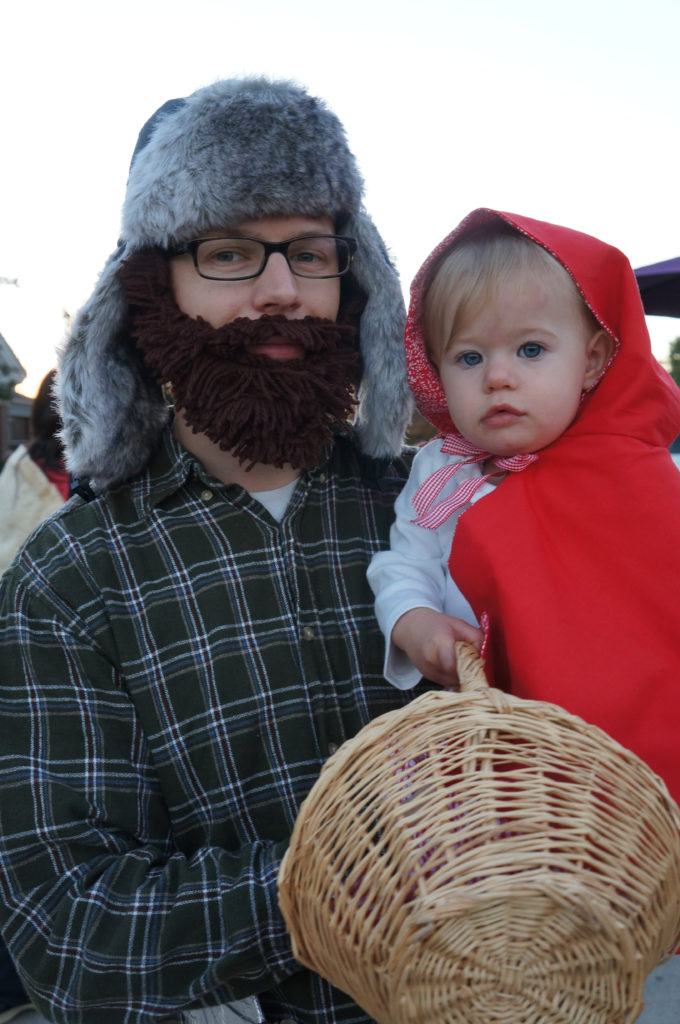 First up, Little Red and her woodsman father. You can't tell in this picture but the hood actually goes up to a point like a little pixie. This cape was shockingly difficult, and next time (as usual) it would definitely be easier to follow some tutorial.  I had to redo it so many times! As for the Father, funny thing was at this time Duck Dynasty was really popular, and lots people came up to the hubs saying "So cool! You're Jase!" Or Willie or one of those characters, I can't even remember now which one it was. I thought it was pretty obvious what we were and especially when we were all together, but we sure had people scratching their heads and asking who we were supposed to be! Jesse had big hunting plans for that winter, so I actually ordered him a real freezing weather hat which he later used. It's nice when things can serve a dual purpose! And it seriously was only about $10-$15 more than the "costume" woodsman hats, so certainly worth it. And it definitely looks better with ear flaps up. 😉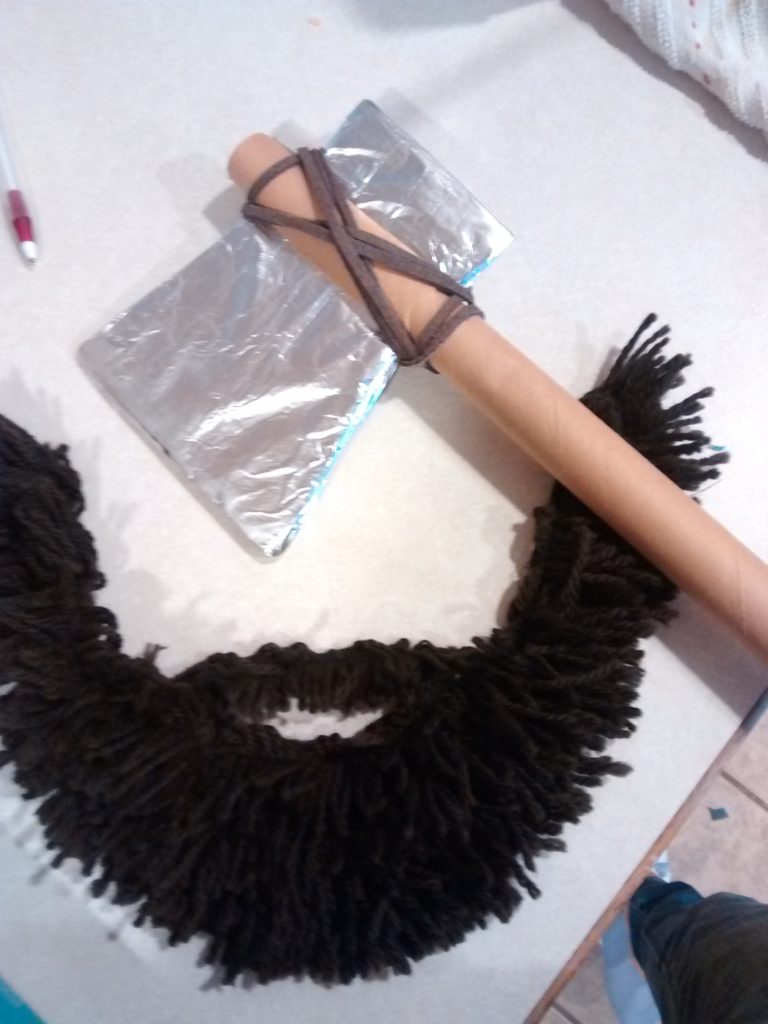 Terrible picture I know, but this shows his beard and hatchet. I had brown felt that I cut as the beard/moustache, and then did rows of yarn, folding back and forth and sewing row by row, and then cutting at the bottom folds to make loose hairs. At the top I attached elastic which looped around his ears to stay on. I'll be honest, a lot of times it is worth it to make something instead of buying, but if I had a redo, I would totally buy! It actually took a lot of time and work. The hatchet was the inner part of the paper towel roll (yep, I'm still collecting those dad… 😉 They can always be turned into something!).  I cut a piece of cardboard into the shape of a blade and covered with foil, then cut out a very narrow strip on each side of the tube to slide the blade in. The final touch was a leather shoelace actually from a pair of moccasins Jesse was throwing out (can you understand why I have hoarding tendencies?? Everything throw-out-able can be turned into creations!!).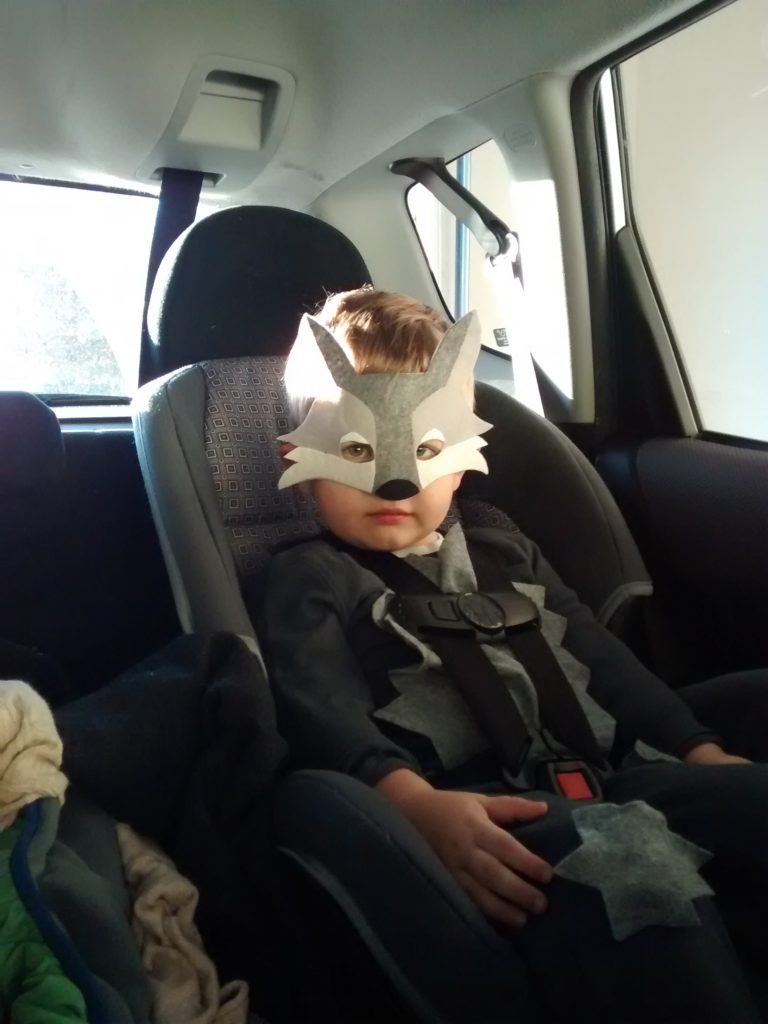 It took my a while to figure out the mask design for the not-so-bad-wolf. I used a sheet of stiff gray felt (that they sell at hobby lobby) as the base, then used wonder-under (which has adhesive on both sides which can be ironed on) to attach the other pieces on top. Because I covered his nose and I accidentally cut the elastic too short (and too lazy to redo), his nose was a liiitle squished!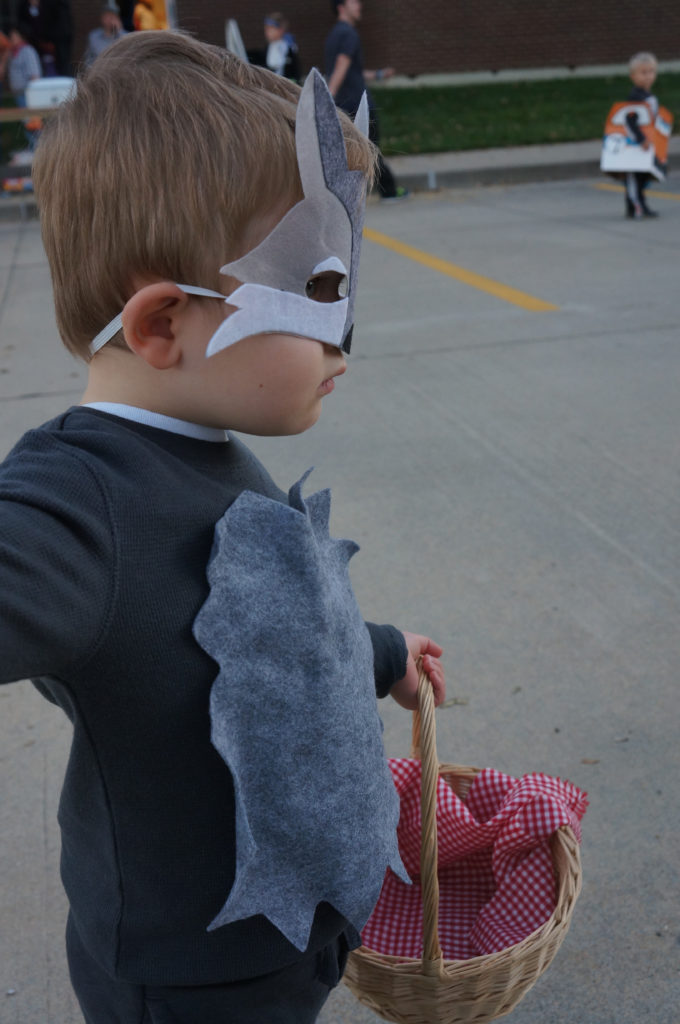 The rest of his outfit was easy– gray shirt and pants and loosely  hand stitched on some lighter gray felt pieces on the belly and knees, which I was able to easily remove after Halloween so he could wear the clothes.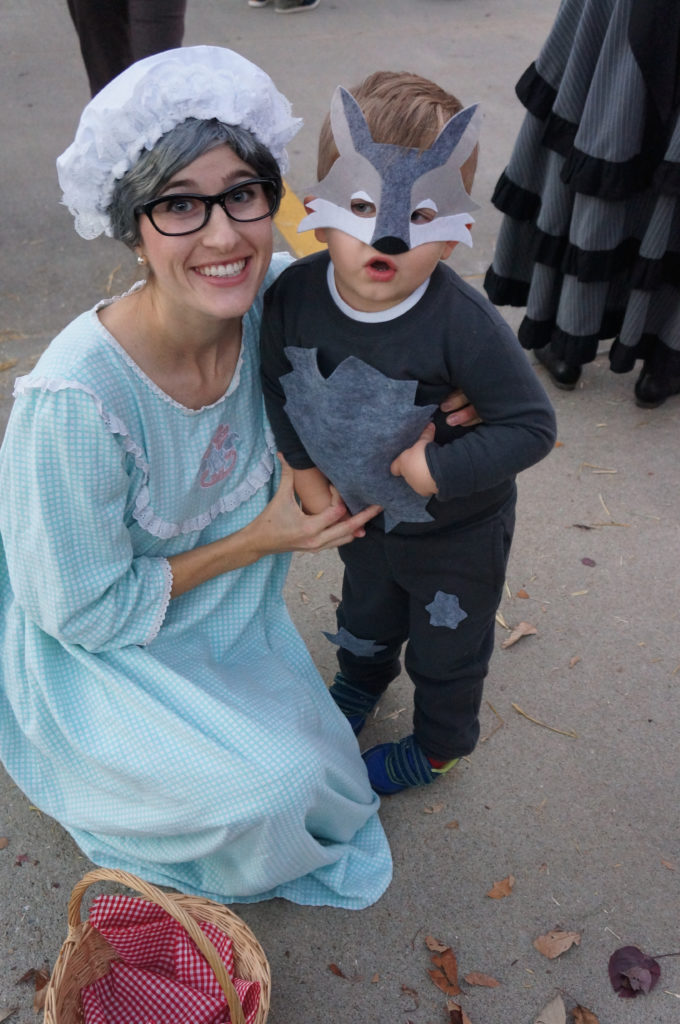 I love alternative candy-collecting receptacles. I thought little baskets lined with gingham were perfect. As for my outfit, I got my nightgown and glasses from goodwill, wore some slippers, and ordered my wig and nightcap/bonnet online. I was going to make the nightcap, but seeing how the cape and beard took way longer than planned I ran out of time! But i figured I would be able to use it again for future costumes. I'm bummed thought that I forgot to put it on in the pictures at the top on the grass!

The funniest comment I got was when some (rather obnoxious) teenagers came to our house trick or treating and they asked "Who are you supposed to be? A mom??" Thank a lot! It did give me a good laugh though. Yeah, we stay at home moms just stay in our jammies allll day loong. And look like grannies.