Every Friday night growing up, my parents would go out on a date.  This was our night as kids to make what we wanted for dinner, pop popcorn, and watch a movie! We called it our Friday Night Party! Our typical dinner fare (only for a Friday night) was Kraft mac and cheese with peas mixed in or Chinese take-out, but sometimes we got a bit more creative in the kitchen.  I remember my brother being especially adventurous and decided he wanted to lead us in making homemade ravioli, having never made them before.  Now, ravioli is not something you whip up real quick, it takes a lot of work and time! I think we were all starved by the time we sat down at 9 that night to finally eat our dinner!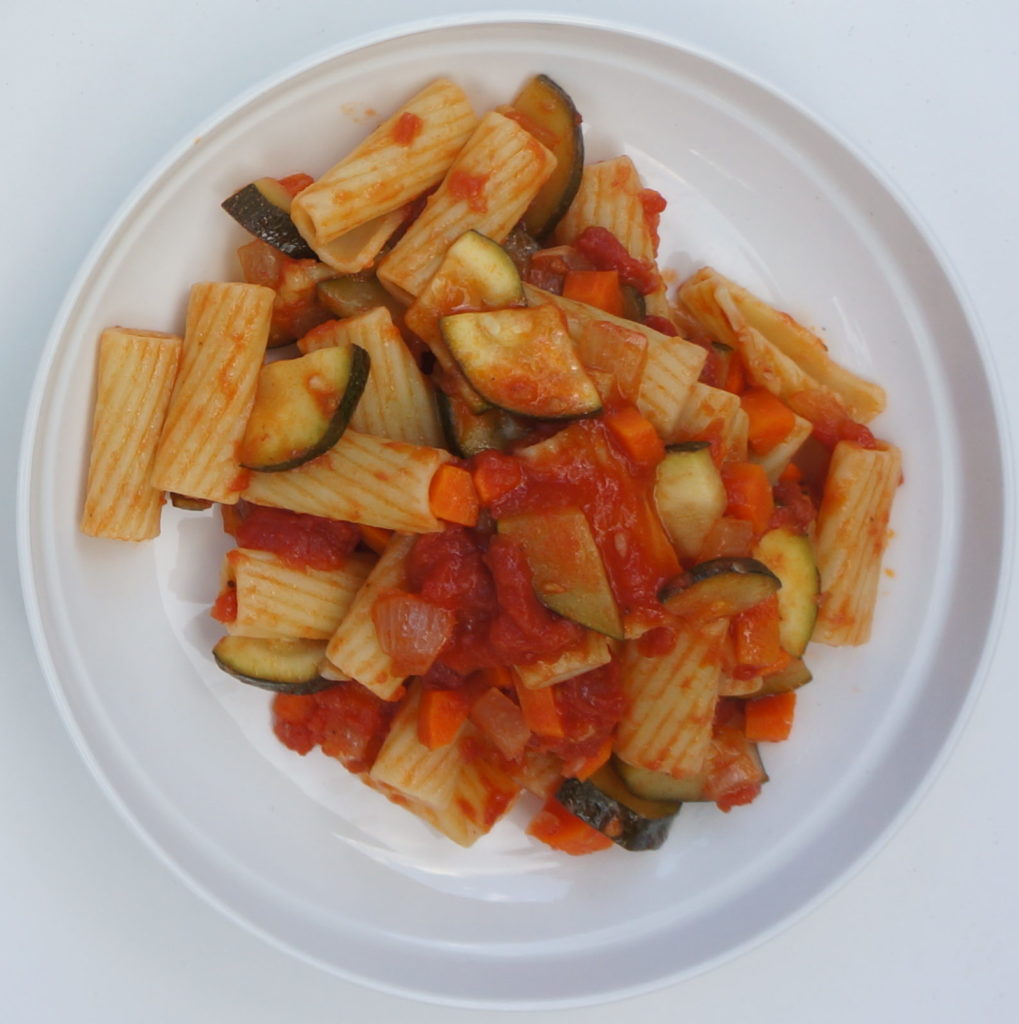 When it was just me and my sister left at home, I remember us slicing and cooking zucchini in the microwave and topping with parmesan, or feeling really fancy when we would saute an onion and carrot to add to our jar of Ragu pasta sauce.  It sure makes us laugh now thinking how gourmet we thought we were!  Later, we really stepped it up and created this pasta sauce from scratch that quickly became a favorite. It still is one of my favorites!
Zucchini Pasta Sauce
A quick and simple pasta that highlights summer's zucchini!
Ingredients
2 Tbsp olive oil
1 onion, diced
3 carrots, diced (or grated if short on time--it will cook faster!)
2 zucchini, quartered and sliced
3 cloves garlic, minced
1 tsp salt
¼ tsp pepper
1 28 oz can crushed tomatoes (or can use diced or mashed up whole tomatoes)
1 tsp sugar
parmesan (optional, for topping)
Instructions
Heat a large saute pan with the oil and add the onion, carrots, zucchini and garlic, seasoning with salt and pepper, and cook until the onion is translucent.
Add the crushed tomatoes and sugar and let it simmer until the carrots are tender and the sauce has thickened.
Check for seasonings and add more salt or pepper if needed.
Serve with shaped pasta* (I like it with penne, bowtie, or rigatoni) or cooked spaghetti squash.
Notes
* My favorite gluten-free noodles are made with brown rice and quinoa.

-This sauce is very simply seasoned that I enjoy as is, but you may also add basil, dried oregano, etc if you desire!

-My mom's secret was to add a chicken bouillon cube to pasta sauces! It really does give it a lot of flavor, so if you have that in your pantry, you can throw it in with the sauteeing veggies before you add the tomatoes (make sure you decrease salt significantly since those little cubes usually pack in a lot of salt already!), I did not include it in the recipe just because I personally no longer use them any more.